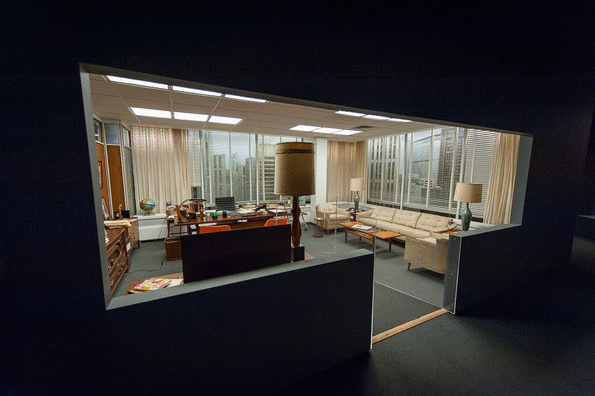 One of the most successful television dramas of all time is nearing its completion as the final season will soon draw to a close. Matthew Weiner's Mad Men has had a great run, captivating audiences all over the world with its mid 20th century charm, excess and rich visuals. And now with a new exhibition at the Museum of the Moving Image, we can all step into the intricate world of Donald Draper and his peers. Featuring dozens of props and costumes from the show, as well as two recreated detailed sets, the exhibition opens to the public this Saturday, March 14th and runs through June 14th. Museum Members also get an early first look right now. Photo gallery below.
[Via Museum of the Moving Image]
Official Press Release:
EXHIBITION

Matthew Weiner's Mad Men
March 14–June 14

Changing Exhibitions Gallery
This new major exhibition explores the creative process behind Mad Men, one of the most acclaimed television series of all time, now launching its final seven episodes on AMC. Featuring large-scale sets including Don Draper's office and the kitchen from the Draper's Ossining home, more than 25 iconic costumes, props, video clips, advertising art, and personal notes and research material from series creator Matthew Weiner, the exhibition offers unique insight into the series' origins, and how its exceptional storytelling and remarkable attention to period detail resulted in a vivid portrait of an era and the characters who lived through it. The Museum's exhibition marks the first time objects relating to the production of Mad Men will be shown in public on this scale. The Museum will also present An Evening with Matthew Weiner and a film series featuring movies that inspired the show, selected by Weiner.

The exhibition Matthew Weiner's Mad Men will be joined by other initiatives around New York City celebrating the series. Mad Men's final seven episodes will air on AMC on Sundays at 10:00 P.M. ET/PT, from April 5 through May 17. Visit amctv.com for more information.

Matthew Weiner's Mad Men is presented with generous support from AMC and Lionsgate.