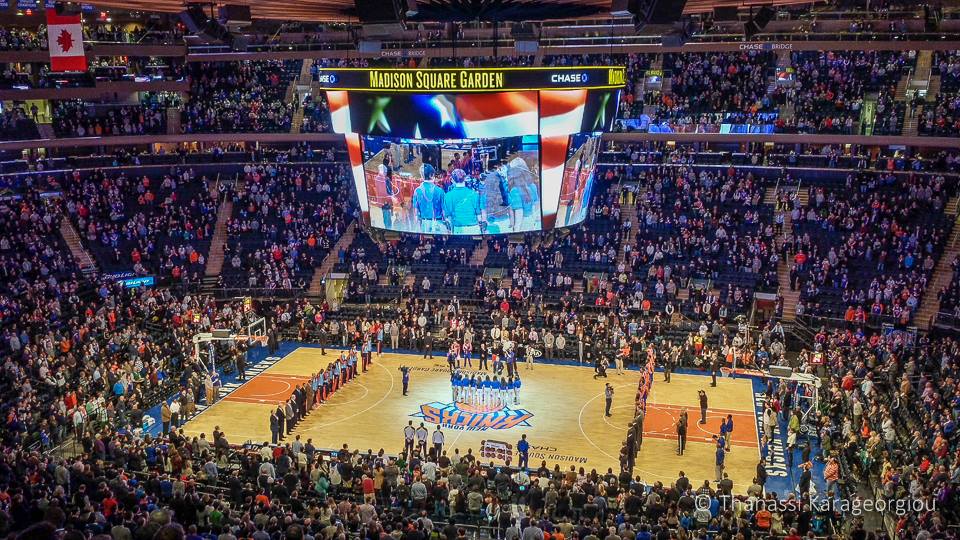 You may or may not have heard that there was a protest by angry Knicks fans outside of Madison Square Garden the other day. If you heard about it, chances are that you're a big fan of the Knicks, like myself, and you read about their highs and lows on a fairly consistent basis. If you didn't hear about it, it's because it pretty much didn't happen; sort of like a tree falling in the forest with no one around.
About 3 weeks ago, the Knicks were in the midst of a seven game slump, which also included losing 13 of their previous 15 games dating back to a February 1st loss to the Heat at home. We'd all grown accustomed to the losing all season, and most of us just tried to tune them out. I don't care how big of a "fan" you call yourself, no one likes to hear or read about their team's woes on such a consistent basis. But one group on Facebook decided to take some action. The internets we abuzz when KF4L (Knicks Fans For Life) organized a protest in front of Madison Square Garden the night before a tough match-up against the no.1 seeded Pacers. They hoped to raise awareness on owner James Dolan's mismanagement of the organization and the team's subsequent poor performances during the last decade and a half. And their frustration was at first merited, because I'll be the first to tell you that New Yorkers dislike losing more than anyone else in the world. But their cries fell on deaf ears this past Wednesday, and here's why:
1. The Winning Streak
This might be the most important reason. The Knicks were riding on a six game winning streak going into Wednesday night's game with the Pacers. This was their highest of the season (previously 5 on January 13th). Nothing boosts fan base moral more than winning. I don't care how disappointed you are with the season. When we string together wins like this, who cares about how mad you were at the team? We know the Knicks have been inconsistent. We'll take what we can get. Besides, Stat and Melo are playing well. Who says we can't beat the Pacers tonight? Momentum, baby! [Estimated Protest Abandonment Factor: 50%]
2. We Got Phil Jackson
James Dolan admitted Tuesday morning during a press conference that he wasn't the savviest Basketball mind (duh), but that he was a good businessman. It also happened that said press conference was about introducing the NBA's most winning coach of all time as The Knicks new President. In rumors that was first posted by ESPN's Stephen A. Smith and Chris Broussard just under two weeks earlier, Jackson was reported to have been wooed for some time by Dolan, but the leaks and public unveiling came just before the protest. Coincidence? Maybe. Or perhaps the negotiations were sped up to give the public hope and take even more attention off the protest publicity. [Estimated Protest Abandonment Factor: 30%]
3. The Weather
As if the first two reasons weren't enough to skip the protest, Mother Nature made it very difficult to stay loyal to the "cause". It was a windy 40 degrees and rain was brewing by tip-off time. You don't protest in those conditions because you're sad about your sports team. You brave that weather for more meaningful stuff, like Occupy Wall Street, where hundreds fought for their rights to play Hacky-Sac and charge their iPhones, and something about money. [Estimated Protest Abandonment Factor: 20%]
I don't care how big of a "fan" you call yourself, no one likes to hear or read about their team's woes on such a consistent basis.
4. Poor Arguments
The protesters peaked to around 35 or 40, but only about 3 of them seemed enthusiastic and only moderately angry. The rest kind of just moped around like children with ADHD who had just been medicated. Not very inspiring. You just didn't feel any sense of oppression or struggle…except maybe the struggle to stay warm.
5. Alternate Agendas
There's nothing like a protest to sell T-Shirts right? Some entrepreneurs in the crowd used the demonstration as a springboard for their couture. Part of me applauds them for being opportunistic New Yorkers on the hustle. I respect that. But it discredits your cause and makes everyone else in your playpen look stupid. Are you really mad about the Knicks losing, or do you just want to hand out business cards (yes, they gave me a business card). Yawn.
6. Did I Mention the Percussion Band?
Here's the icing on the cake. If all the above wasn't enough to steer clear of the revolution, the Knicks ingeniously deployed a dozen or so drummers about a hundred feet away from the protesters to further distract from the protest… entertain the crowds and fans. Notice the crowd watching the band? Yea. It was fun. They chanted positive stuff like "Let's Go Knicks!!" Distraction or not, at the end of the day, we all want to see our Knicks win, so sipping on some Kool-Aid before a game tastes a lot better than the Haterade.
7. (BONUS) Oh Yea, We Kind Of Won the Game That Night
We beat the Pacers in what might have been one of the most physical matches of the season. All our boys played with heart and muscled out a win in which we never trailed since the opening minutes. Phil Jackson was introduced to the crowd in the first quarter and it really got the crowd into it. Even if we don't make the playoffs, these next few games will be fun to watch. Moral is high among fans, and players alike.